Whole Food Nutrition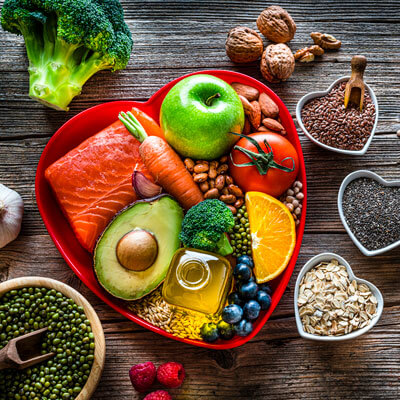 Here at Wellness Montana, we believe in healing the body from the inside out. That starts with proper whole food nutrition, chiropractic care, exercise, stress management and supplements to fill in the gaps where our food is lacking. With soil being depleted of vital nutrients, we are no longer getting the same amount of vitamins and minerals as our ancestors were prior to the industrial revolution. Once the industrial revolution came about, we started mass producing crops that were not in the right season, further depleting them of vital nutrients.
One solution to fix this problem is checking out your local farmer's market. When looking for quality whole foods, consider supporting your local farmer and eating the foods that are grown in their correct season. Eating the foods in season is one way to ensure proper growth and absorption of vitamins and minerals from the soil because they are able to thrive in the proper environment. We recommend this as another way to get involved with your community and get to know you farmer as well so you can know how your food is grown.
Our supplement recommendations are through Standard Process. Which is a whole food supplement brand that sources their supplements from ethically and seasonally sourced plants and animal organs. A majority of their crops are grown on their own organic farm, which allows them to closely ensure the quality of their products from seed to supplement!
Dr. Anderson, aside from being a skilled chiropractor, is an expert in nutritional wellness. With over 20 years experience in the wellness industry, he has helps thousands of patients with proper nutritional education to heal the body and get it back to the way God designed it to function. Dr. Anderson does personalized one on one nutritional consultations and puts together care plans to help you reach your wellness goals. This is done through a few detailed questionnaire forms, that Dr. Anderson thoroughly reviews and determines the best route to reaching your goals.
Our office also offers hormone testing, hair tissue mineral analysis testing, and food sensitivity testing to help further determine what your body is trying to tell you is wrong. Let's keep in mind that these are just pieces to the puzzle to getting to the root cause of your health concerns. Dr. Anderson does not take the band-aid approach to your symptoms. The goal through nutritional counseling is to listen to the patients concerns and find a solution to true healing.
Schedule a Consultation
If you are interested in setting up a nutritional consultation with Dr. Anderson, give our office a call and get your complimentary 10 minute consultation set up. (406) 522-5433
CONTACT US »
---
Whole Food Nutrition Bozeman MT | (406) 522-5433